element <cashSettlementAmount> (local)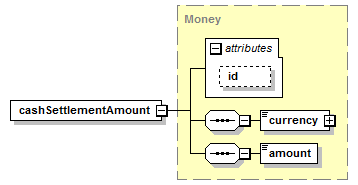 XML Representation Summary
Content model elements (2):
Included in content model of elements (1):
The amount paid by the seller to the buyer for cash settlement on the cash settlement date. If not otherwise specified, would typically be calculated as 100 (or the Reference Price) minus the price of the Reference Obligation (all expressed as a percentage) times Floating Rate Payer Calculation Amount. ISDA 2003 Term: Cash Settlement Amount.
XML Source
(w/o annotations (1); see within schema source)
---