element <notionalAmount> (local)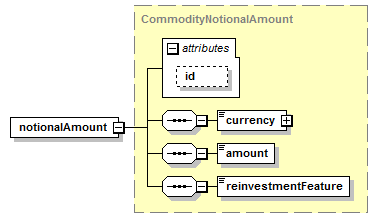 XML Representation Summary
Content model elements (3):
Included in content model of elements (1):
Specifies the notional amount of a commodity performance type swap. It is a currency-denominated value (i.e. price-times-quantity). In confirmations is also referred to as the Notional Quantity (sic, expressed in currency units), Notional Amount, Equity Notional Amount and, in the case of reinvesting swaps, Initial Notional Amount.
XML Source
(w/o annotations (1); see within schema source)
---