element <terminationDate> (local)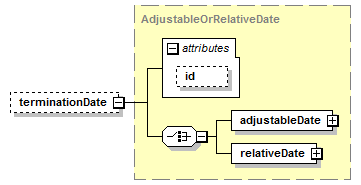 XML Representation Summary
Content model elements (2):
Included in content model of elements (1):
Specifies the termination date of the Commodity Option Transaction. In some confirmations this will be indicated as the second date in "Option Term" or "Term". Note: If provided, terminationDate should not be before specified expirationDate within the CommodityAmericanExercise type or the CommodityEuropeanExercise type.
XML Source
(w/o annotations (1); see within schema source)
---