element <resetFrequency> (local)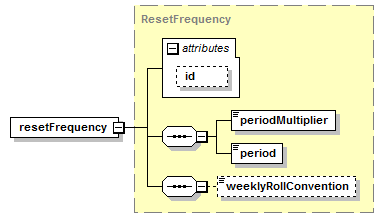 XML Representation Summary
Content model elements (3):
Included in content model of elements (1):
The frequency at which reset dates occur. In the case of a weekly reset frequency, also specifies the day of the week that the reset occurs. If the reset frequency is greater than the calculation period frequency then this implies that more than one reset date is established for each calculation period and some form of rate averaging is applicable.
XML Source
(w/o annotations (1); see within schema source)
---