element <basketAmount> (local)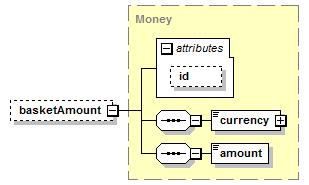 XML Representation Summary
Content model elements (2):
Included in content model of elements (2):
DEPRECATED. The relative weight of each respective basket constituent, expressed as a monetary amount.
XML Source
(w/o annotations (1); see within schema source)
<
xsd:element fpml-annotation:deprecated
="
true
"
fpml-annotation:deprecatedReason
="
Basket Amount is not present in ISDA documentation or otherwise, basket is weighted on percentage (relative weight) or open units (absolute weight), both of which are stable expressions.
"
minOccurs
="
0
"
name
="
basketAmount
"
type
="
Money
"/>
---