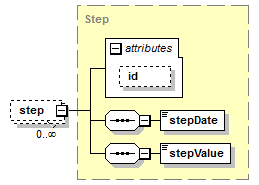 XML Representation Summary
Content model elements (2):
Included in content model of elements (1):
A schedule of step date and value pairs. On each step date the associated step value becomes effective. A list of steps may be ordered in the document by ascending step date. An FpML document containing an unordered list of steps is still regarded as a conformant document.
XML Source
(w/o annotations (1); see within schema source)
---