element <calculationAmount> (local)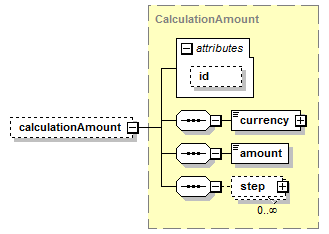 XML Representation Summary
Content model elements (3):
Included in content model of elements (1):
The notional amount used in the calculation of fixed amounts where an amount is calculated on a formula basis, i.e. fixed amount = fixed rate payer calculation amount x fixed rate x fixed rate day count fraction. ISDA 2003 Term: Fixed Rate Payer Calculation Amount.
XML Source
(w/o annotations (1); see within schema source)
---