complexType "CommodityFx"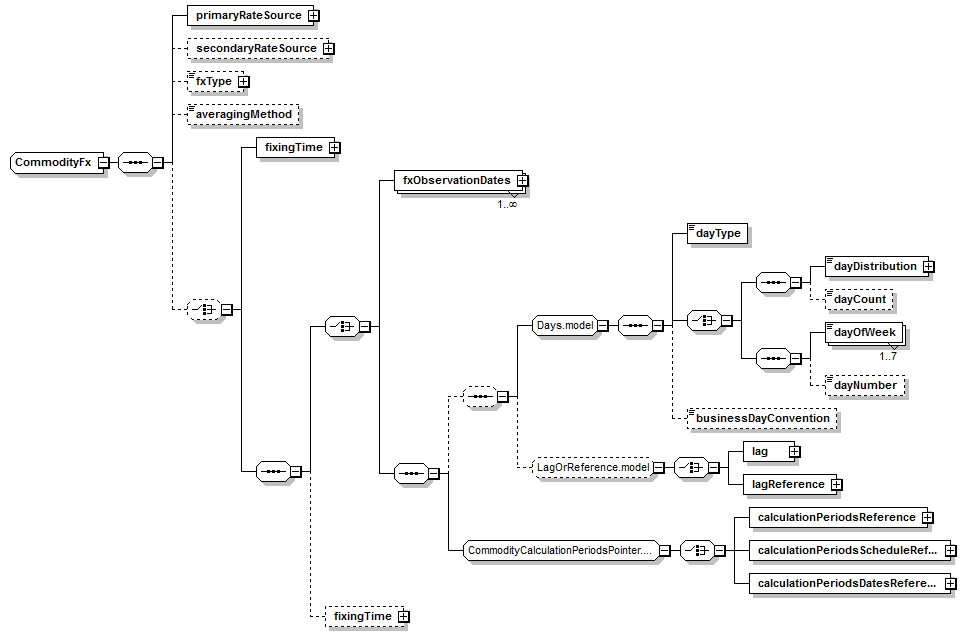 XML Representation Summary

| | |
| --- | --- |
| | primaryRateSource, secondaryRateSource?, fxType?, averagingMethod?, (fixingTime | ((fxObservationDates+ | ((dayType, ((dayDistribution, dayCount?) | (dayOfWeek[1..7], dayNumber?)), businessDayConvention?, (lag | lagReference)?)?, (calculationPeriodsReference | calculationPeriodsScheduleReference | calculationPeriodsDatesReference))), fixingTime?))? |
Content Model Elements (18):
All Direct / Indirect Based Elements (3):
As direct type of elements (3):
A type defining the FX observations to be used to convert the observed Commodity Reference Price to the Settlement Currency. The rate source must be specified. Additionally, a time for the spot price to be observed on that source may be specified, or else an averaging schedule for trades priced using an average FX rate.
XML Source
(w/o annotations (10); see within schema source)
Content Element Detail
(all declarations; defined within this component only; 7/18)
---
---
---
---
---
---
---