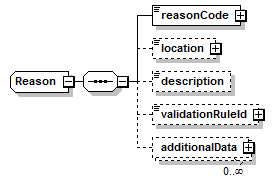 XML Representation Summary
Content Model Elements (5):
All Direct / Indirect Based Elements (8):
As direct type of elements (8):
A type defining a content model for describing the nature and possible location of a error within a previous message.
XML Source
(w/o annotations (6); see within schema source)
<
xsd:complexType name
="
Reason
">
Content Element Detail
(all declarations; defined within this component only; 5/5)
Any string of additional data that may help the message processor, for example in a rejection message this might contain a code value or the text of any one of the messages (within a CDATA section).
---
Plain English text describing the associated error condition
---
A value indicating the location of the problem within the subject message.
---
A machine interpretable error code.

| | |
| --- | --- |
| | |
| | |
---
A reference identifying a rule within a validation scheme

| | |
| --- | --- |
| | |
| | |
---