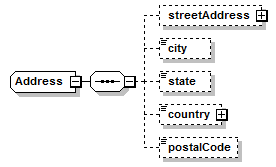 XML Representation Summary
Content Model Elements (5):
All Direct / Indirect Based Elements (2):
As direct type of elements (2):
A type that represents a physical postal address.
XML Source
(w/o annotations (6); see within schema source)
Content Element Detail
(all declarations; defined within this component only; 5/5)
The city component of a postal address.
---
The ISO 3166 standard code for the country within which the postal address is located.
---
The code, required for computerised mail sorting systems, that is allocated to a physical address by a national postal authority.
---
A country subdivision used in postal addresses in some countries. For example, US states, Canadian provinces, Swiss cantons.
---
The set of street and building number information that identifies a postal address within a city.
---