complexType "DividendSwapOptionTransactionSupplement"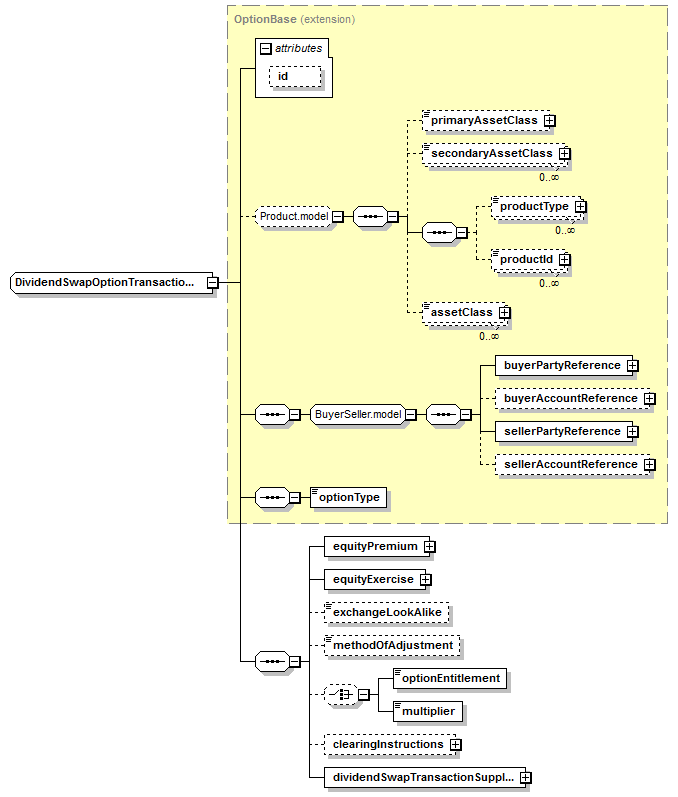 XML Representation Summary

| | |
| --- | --- |
| | (primaryAssetClass?, secondaryAssetClass*, productType*, productId*, assetClass*)?, buyerPartyReference, buyerAccountReference?, sellerPartyReference, sellerAccountReference?, optionType, equityPremium, equityExercise, exchangeLookAlike?, methodOfAdjustment?, (optionEntitlement | multiplier)?, clearingInstructions?, dividendSwapTransactionSupplement |
Content Model Elements (18):
All Direct / Indirect Based Elements (1):
As direct type of elements (1):

Option
(extension)

OptionBase
(extension)

DividendSwapOptionTransactionSupplement
XML Source
(w/o annotations (8); see within schema source)
Content Element Detail
(all declarations; defined within this component only; 8/18)
Specifies any instructions on how the physical settlement is to be effected when the option is exercised.
---
The variance swap details.
---
The parameters for defining how the equity option can be exercised, how it is valued and how it is settled.
---
The variance option premium payable by the buyer to the seller.
---
xsd:boolean

, predefined, simple content

For a share option transaction, a flag used to indicate whether the transaction is to be treated as an 'exchange look-alike'. This designation has significance for how share adjustments (arising from corporate actions) will be determined for the transaction. For an 'exchange look-alike' transaction the relevant share adjustments will follow that for a corresponding designated contract listed on the related exchange (referred to as Options Exchange Adjustment (ISDA defined term), otherwise the share adjustments will be determined by the calculation agent (referred to as Calculation Agent Adjustment (ISDA defined term)).
---
Defines how adjustments will be made to the contract should one or more of the extraordinary events occur.

| | | |
| --- | --- | --- |
| | | The Calculation Agent has the right to adjust the terms of the trade following a corporate action. |
| | | The trade will be adjusted in accordance with any adjustment made by the exchange on which options on the underlying are listed. |
---
Specifies the contract multiplier that can be associated with an index option.
---
The number of shares per option comprised in the option transaction supplement.
---