complexType "InstrumentTradePricing"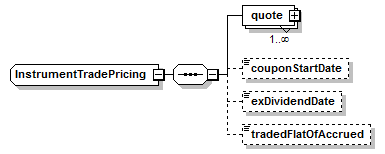 XML Representation Summary
Content Model Elements (4):
All Direct / Indirect Based Elements (1):
As direct type of elements (1):
A structure describing the price paid for the instrument.
XML Source
(w/o annotations (4); see within schema source)
Content Element Detail
(all declarations; defined within this component only; 4/4)
xsd:date

, predefined, simple content

The date interest started accruing for the accrued interest calculation on an interest bearing security.
---
xsd:date

, predefined, simple content

The date when a distribution of dividends or interest is deducted from a securities asset, or set aside for payment to the original bondholders. From the ex-date, any dividends that are owing on the security are paid to the original owner. As a consequence of this, on the ex-date, the securities price typically drops by the amount of the distribution (plus or minus any market activity).
---
XML Source

(see within schema source)
---
xsd:boolean

, predefined, simple content

Whether the accrued interest in included when the trade settles. ("true" means accrued interest is not included when the trade settles.)
---