complexType "EquityBermudaExercise"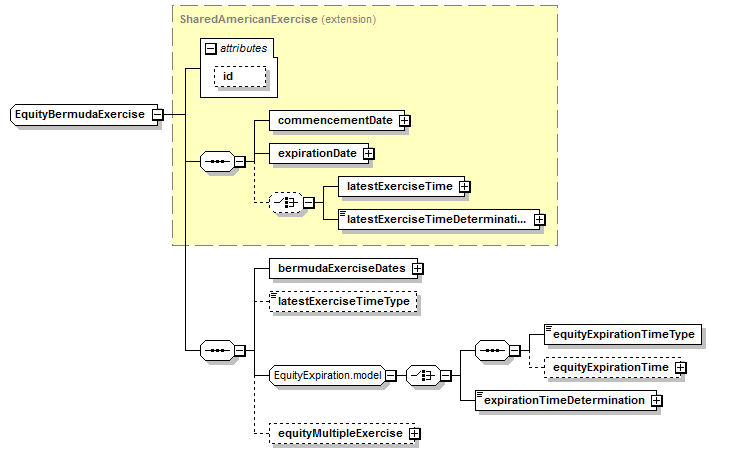 XML Representation Summary
Content Model Elements (10):
All Direct / Indirect Based Elements (1):
As direct type of elements (1):
A type for defining exercise procedures associated with a Bermuda style exercise of an equity option. The term Bermuda is adopted in FpML for consistency with the ISDA Definitions.
XML Source
(w/o annotations (4); see within schema source)
Content Element Detail
(all declarations; defined within this component only; 3/10)
List of Exercise Dates for a Bermuda option.
---
The presence of this element indicates that the option may be exercised on different days. It is not applicable to European options.
---
The latest time of day at which the equity option can be exercised, for example the official closing time of the exchange.

| | | |
| --- | --- | --- |
| | | The official closing time of the exchange on the valuation date. |
| | | The official opening time of the exchange on the valuation date. |
| | | The time at which the official settlement price is determined. |
| | | The time specified in the element equityExpirationTime or valuationTime (as appropriate) |
| | | The time at which the official settlement price (following the auction by the exchange) is determined by the exchange. |
| | | The official closing time of the derivatives exchange on which a derivative contract is listed on that security underlyer. |
| "AsSpecifiedInMasterConfirmation" | | The time is determined as provided in the relevant Master Confirmation. |
---