complexType "EquityDerivativeShortFormBase"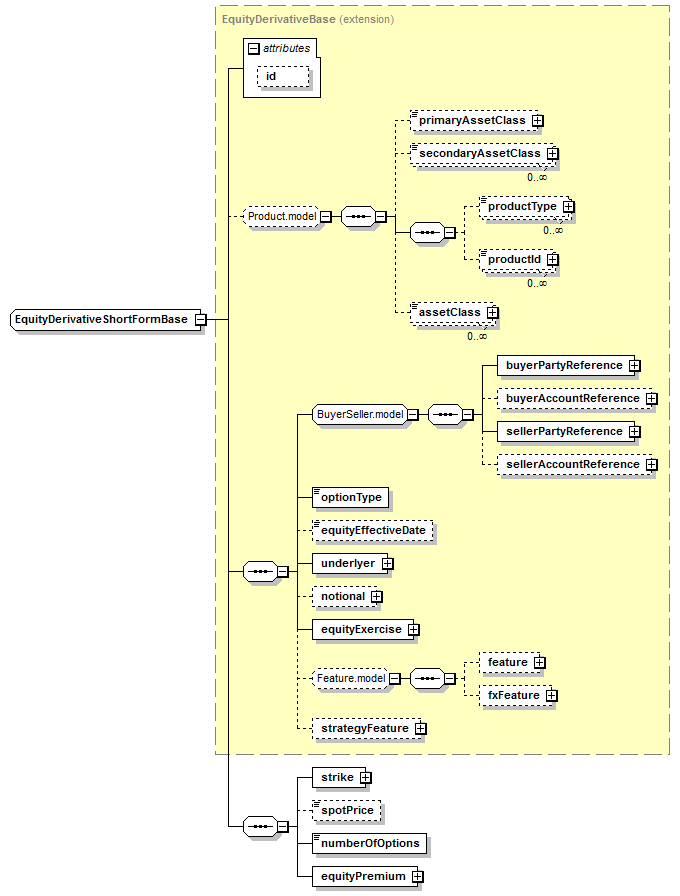 XML Representation Summary

| | |
| --- | --- |
| | (primaryAssetClass?, secondaryAssetClass*, productType*, productId*, assetClass*)?, buyerPartyReference, buyerAccountReference?, sellerPartyReference, sellerAccountReference?, optionType, equityEffectiveDate?, underlyer, notional?, equityExercise, (feature?, fxFeature?)?, strategyFeature?, strike, spotPrice?, numberOfOptions, equityPremium |
Content Model Elements (21):
Known Direct Subtypes (2):
All Direct / Indirect Based Elements (2):
A type for defining short form equity option basic features.
XML Source
(w/o annotations (5); see within schema source)
Content Element Detail
(all declarations; defined within this component only; 4/21)
The equity option premium payable by the buyer to the seller.
---
The number of options comprised in the option transaction.
---
The price per share, index or basket observed on the trade or effective date.
---
Defines whether it is a price or level at which the option has been, or will be, struck.
---