complexType "InstrumentSet"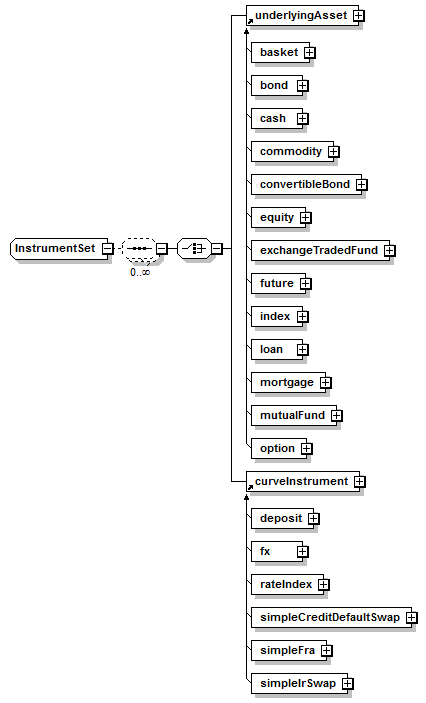 XML Representation Summary
Content Model Elements (2):
All Direct / Indirect Based Elements (1):
As direct type of elements (1):
A collection of instruments usable for quotation purposes. In future releases, quotable derivative assets may be added after the underlying asset.
XML Source
(w/o annotations (3); see within schema source)
<
xsd:sequence maxOccurs
="
unbounded
"
minOccurs
="
0
">
Content Element Detail
(all declarations; defined within this component only; 2/2)
| | |
| --- | --- |
| | |
| | (may not be used directly in instance XML documents) |
| | |

A collection of underlying assets (bonds, discount instruments, futures, etc.) that can be used as a basis for benchmark quotes.

XML Source

(w/o annotations (1); see within schema source)
---
| | |
| --- | --- |
| | |
| | (may not be used directly in instance XML documents) |
| | |

A collection of underlying assets (bonds, discount instruments, futures, etc.) that can be used as a basis for benchmark quotes.

XML Source

(w/o annotations (1); see within schema source)
---