complexType "SettlementInstruction"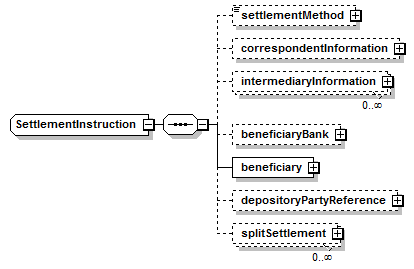 XML Representation Summary
Content Model Elements (7):
All Direct / Indirect Based Elements (1):
As direct type of elements (1):
A type that models a complete instruction for settling a currency payment, including the settlement method to be used, the correspondent bank, any intermediary banks and the ultimate beneficary.
XML Source
(w/o annotations (8); see within schema source)
Content Element Detail
(all declarations; defined within this component only; 7/7)
The ultimate beneficiary of the funds. The beneficiary can be identified either by an account at the beneficiaryBank (qv) or by explicit routingInformation. This element provides for the latter.
---
The bank that acts for the ultimate beneficiary of the funds in receiving payments.
---
The information required to identify the correspondent bank that will make delivery of the funds on the paying bank's behalf in the country where the payment is to be made
---
Reference to the depository of the settlement.
---
Information to identify an intermediary through which payment will be made by the correspondent bank to the ultimate beneficiary of the funds.
---
The mechanism by which settlement is to be made. The scheme of domain values will include standard mechanisms such as CLS, Fedwire, Chips ABA, Chips UID, SWIFT, CHAPS and DDA.

| | |
| --- | --- |
| | |
| | |
---
The set of individual payments that are to be made when a currency payment settling a trade needs to be split between a number of ultimate beneficiaries. Each split payment may need to have its own routing information.
---