complexType "FxAccrualDigitalOption"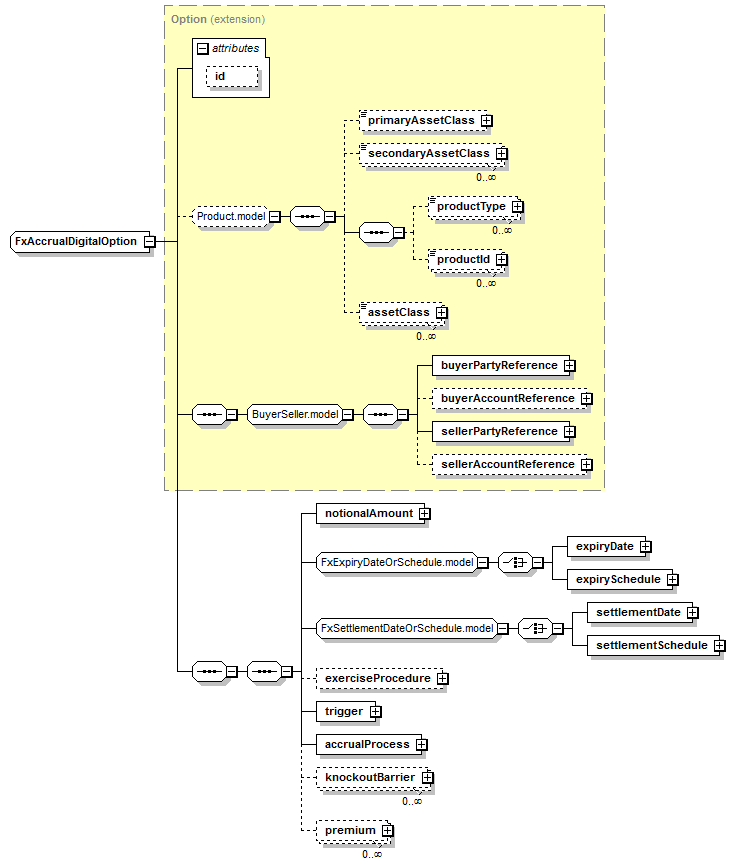 XML Representation Summary

| | |
| --- | --- |
| | (primaryAssetClass?, secondaryAssetClass*, productType*, productId*, assetClass*)?, buyerPartyReference, buyerAccountReference?, sellerPartyReference, sellerAccountReference?, notionalAmount, (expiryDate | expirySchedule), (settlementDate | settlementSchedule), exerciseProcedure?, trigger, accrualProcess, knockoutBarrier*, premium* |
Content Model Elements (19):
All Direct / Indirect Based Elements (1):
As direct type of elements (1):
An FX Accrual Digital Option product The product defines a list of fixing (or observation) dates. There are m total fixings. At the expiry date of the product, the buyer of the option has the right to an FX settlement with n/m * Notional. Payout can be cash or physical.

Option
(extension)

FxAccrualDigitalOption
XML Source
(w/o annotations (9); see within schema source)
Content Element Detail
(all declarations; defined within this component only; 6/19)
Describes accrual features within the product.
---
A set of parameters defining procedures associated with the exercise.
---
Defines a knockout barrier conditions where if a barrier event occurs, the accrual process is terminated for the duration of all remainin accrual periods. Settlement rights for the next settlement are either retained or extinguished.
---
Notional amount Schedule. The notional value of the product. This number divided by the total number of fixings in the fixing schedule is the amount that is accrued at each fixing if the accrual factor is one.
---
Premium amount or premium installment amount for an option.
---
Defines one or more conditions underwhich the option will payout if exercisable.
---