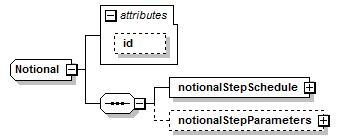 XML Representation Summary
Content Model Elements (2):
All Direct / Indirect Based Elements (1):
As direct type of elements (1):
An type defining the notional amount or notional amount schedule associated with a swap stream. The notional schedule will be captured explicitly, specifying the dates that the notional changes and the outstanding notional amount that applies from that date. A parametric representation of the rules defining the notional step schedule can optionally be included.
XML Source
(w/o annotations (3); see within schema source)
Attribute Detail
(all declarations; defined within this component only; 1/1)
Content Element Detail
(all declarations; defined within this component only; 2/2)
A parametric representation of the notional step schedule, i.e. parameters used to generate the notional schedule.

XML Source

(w/o annotations (1); see within schema source)
---
The notional amount or notional amount schedule expressed as explicit outstanding notional amounts and dates. In the case of a schedule, the step dates may be subject to adjustment in accordance with any adjustments specified in calculationPeriodDatesAdjustments.

XML Source

(w/o annotations (1); see within schema source)
---