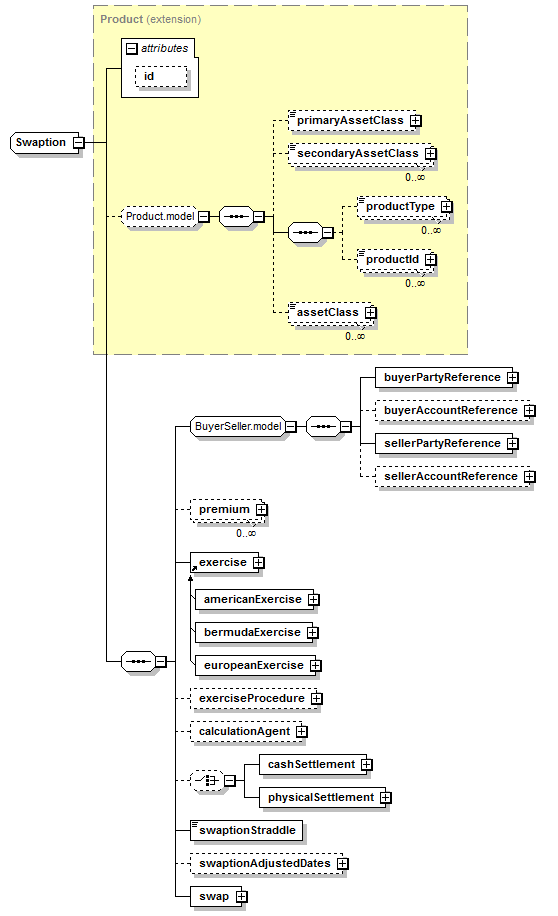 XML Representation Summary

| | |
| --- | --- |
| | (primaryAssetClass?, secondaryAssetClass*, productType*, productId*, assetClass*)?, buyerPartyReference, buyerAccountReference?, sellerPartyReference, sellerAccountReference?, premium*, exercise, exerciseProcedure?, calculationAgent?, (cashSettlement | physicalSettlement)?, swaptionStraddle, swaptionAdjustedDates?, swap |
Content Model Elements (18):
All Direct / Indirect Based Elements (1):
As direct type of elements (1):
A type to define an option on a swap.

Swaption
XML Source
(w/o annotations (9); see within schema source)
Content Element Detail
(all declarations; defined within this component only; 9/18)
The ISDA Calculation Agent responsible for performing duties associated with an optional early termination.
---
If specified, this means that cash settlement is applicable to the transaction and defines the parameters associated with the cash settlement procedure. If not specified, then physical settlement is applicable.
---
---
A set of parameters defining procedures associated with the exercise.
---
If specified, this defines physical settlement terms which apply to the transaction.
---
The option premium amount payable by buyer to seller on the specified payment date.
---
---
The adjusted dates associated with swaption exercise. These dates have been adjusted for any applicable business day convention.
---
xsd:boolean

, predefined, simple content

Whether the option is a swaption or a swaption straddle.
---