complexType "CommodityOption"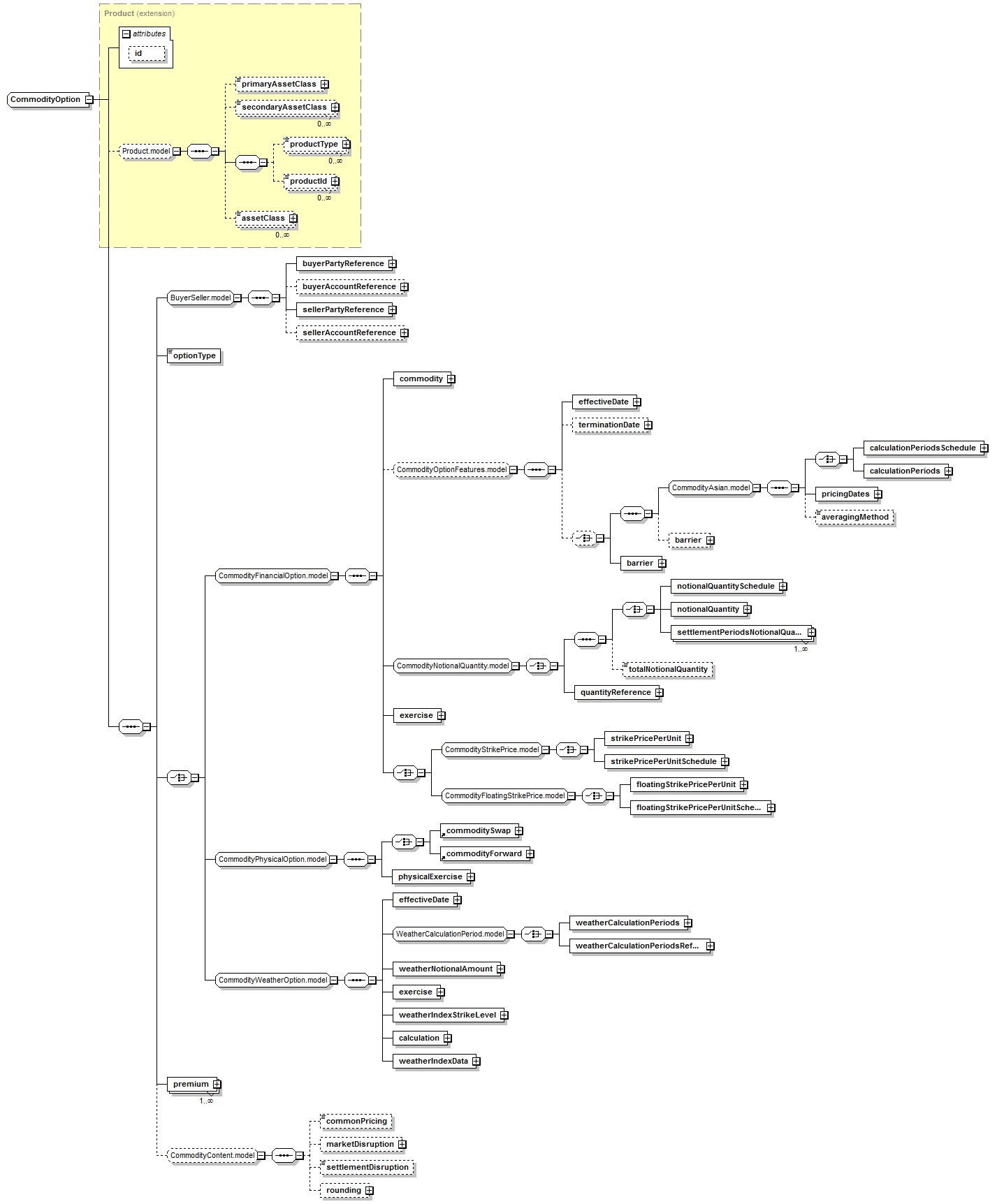 XML Representation Summary

| | |
| --- | --- |
| | (primaryAssetClass?, secondaryAssetClass*, productType*, productId*, assetClass*)?, buyerPartyReference, buyerAccountReference?, sellerPartyReference, sellerAccountReference?, optionType, ((commodity, (effectiveDate, terminationDate?, (((calculationPeriodsSchedule | calculationPeriods), pricingDates, averagingMethod?, barrier?) | barrier)?)?, (((notionalQuantitySchedule | notionalQuantity | settlementPeriodsNotionalQuantity+), totalNotionalQuantity?) | quantityReference), exercise, (strikePricePerUnit | strikePricePerUnitSchedule | floatingStrikePricePerUnit | floatingStrikePricePerUnitSchedule)) | ((commoditySwap | commodityForward), physicalExercise) | (effectiveDate, (weatherCalculationPeriods | weatherCalculationPeriodsReference), weatherNotionalAmount, exercise, weatherIndexStrikeLevel, calculation, weatherIndexData)), premium+, (commonPricing?, marketDisruption?, settlementDisruption?, rounding?)? |
Content Model Elements (45):
All Direct / Indirect Based Elements (1):
As direct type of elements (1):
Defines a commodity option product type. The product support for financially-settled exercises or exercise into physical forward contracts written on precious and non-precious metals. options in FpML is based on the creation of a 'commodityOption' product. The product references the 'commodity' underlyer in order to support the underlying asset of the option.

CommodityOption
XML Source
(w/o annotations (7); see within schema source)
Content Element Detail
(all declarations; defined within this component only; 2/45)
The type of option transaction.

| | | |
| --- | --- | --- |
| | | A put option gives the holder the right to sell the underlying asset by a certain date for a certain price. |
| | | A call option gives the holder the right to buy the underlying asset by a certain date for a certain price. |

XML Source

(w/o annotations (1); see within schema source)
---
The option premium payable by the buyer to the seller.

XML Source

(w/o annotations (1); see within schema source)
---